Quiche Rancheros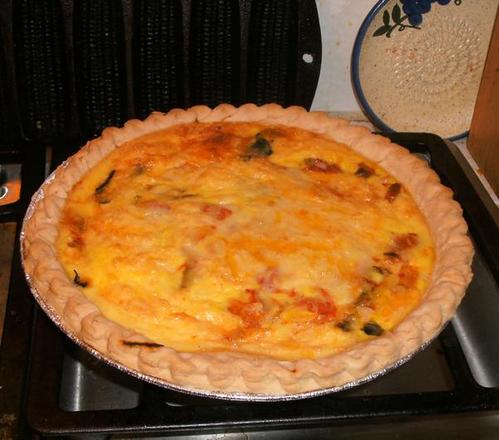 Contributed by:
Marian
One of those creative bursts led me to making a quiche with my breakfast ingredients. The result is delicious!
Ingredients:

1 Frozen Pie Crust
3 - 4 Anaheim Pepper
1 - 2 Pasilla Pepper
1 Cup Tomato Diced, stewed or one 14 oz. can
1/2 Cup Yellow Onion Sliced into ringlets

1/2 cup Cheese - Mexican Blend
4 Egg Beaten
1 T Milk
1 T All Purpose Flour
Preparation:

Roast the peppers on a grill or in the broiler until the skin is bubbling. Set aside in a paper bag to steam the skins off (about 10 minutes)

Prepare the pie crust and cover the bottom with half of the cheese.

Under running water, massage the skins off the peppers. Seed and stem them, and cut into strips.

Saute onions and pepper strips in oil, and season. Go easy on the cumin; a little goes a long way.

Add the tomatoes and cook for about 15 minutes until most of the liquid is absorbed.

Pour the mixture into the pie shell and spread it out, and mix in the rest of the cheese.

Beat your eggs and flour.

Carefully place in a 375 degree oven and pour the egg mixture into the pie shell to fill in around the filling

Bake for 45 minutes.
Makes 6 servings.