Chicken A La Marian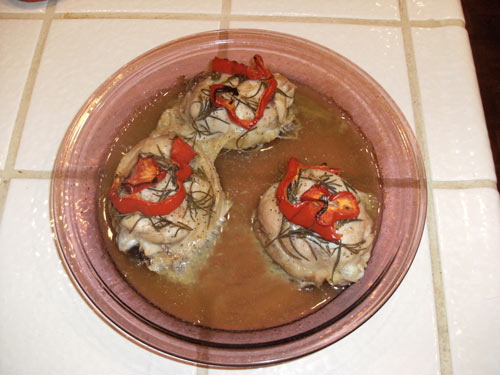 Contributed by:
Marian
This tangy chicken is very good and very easy to make.
Ingredients:

4 Chicken Thighs
1/2 Yellow Bell Pepper Slicd and chopped
2 T Fresh Rosemary Minced
2 T Dijon Mustard

2 T Dry Mustard
3 T Olive Oil
1/2 Red Bell Pepper Sliced and chopped
Preparation:

Place chicken in a glass baking dish and sprinkle the garlic olive oil on each piece. Sprinkle with garlic powder and black pepper and dry mustard (if used), then top with fresh rosemary springs and bell pepper slices.
Bake at 350 for 45 minutes - 1 hour.