Chile Molido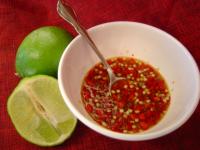 Contributed by:
Marian
This is the red chili 'paste' which is pretty hot - found at most Mexican Restaurants. The usage for this is very widespread; you can use it to dip chips in, or add it to other dishes that call for chile. Great on tamales too!
Ingredients:

15 New Mexican Chiles-Dried
1/4 Cup Olive Oil

2 T White Vinegar
1 t Salt
Preparation:

If the chiles are dried, soak them in water or even better, simmer them in water to soften them up.

Remove seeds and stems.

Combine all of the ingredients in a blender or food processor and puree to a fine paste.
Makes 4 servings.