News
Showing Off a Little...
Resinessence Arts Takes Flight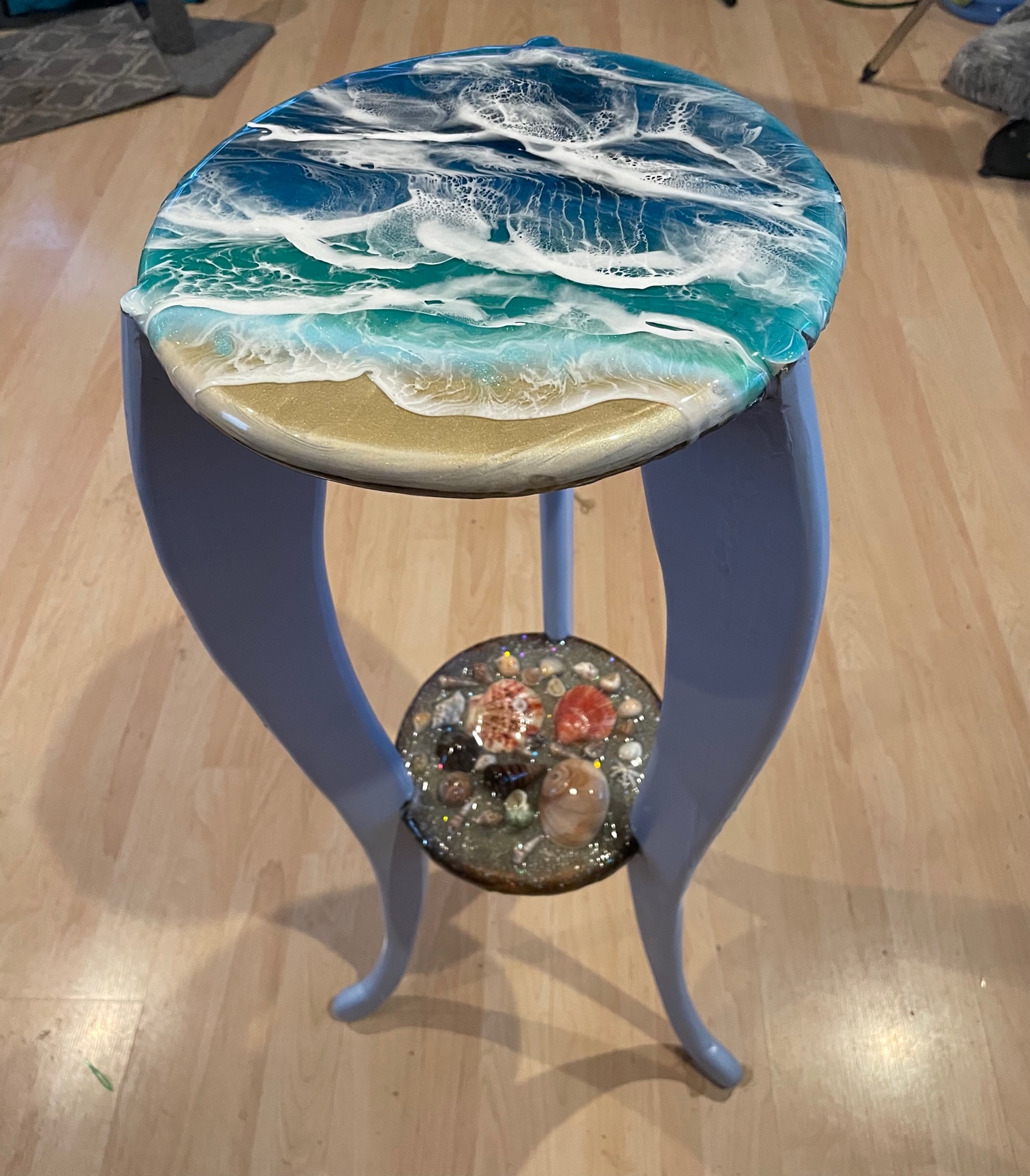 Published: June 3, 2022
So I have been playing with resin for a long time now; just did a little here and there. I made a tray to begin with (did a mosaiac on a $2 yard sale tray) then poured about 1/16" of resin over it and loved it....then I did a lot of votive cups with resin and a candle cup in them...and in December, 2021, I started playing with molds and colors, and it all broke loose!
I'm not sure how it all happened, really, but it became something that I found provided peace and meditation - while creating some cool stuff! There are techniques that frustrated me as I didn't know how to get them going - but realizing it's a chemical process I'm dealing with has made me into a chemist/artist in knowing what my resin is going to do and when. The ocean waves are something I'm still trying to get ahold of. This table is my best piece of ocean work so far. It takes several layers and patience - and using a heat gun as a paint brush.
I sold a set of coasters to a friend and looking around at all of the things I've made, it became apparent that I'd better start selling - as in festivals and online. My first festival was in May and I did pretty well; it was a small festival. The BIG show it coming up in August and I am planning on doing this. I have a lot going on in my life right now, but I plan on doing this.
I ran into some troubles with the warmer temperatures causing my pieces to become "bendy" so I'm making some adjustments. I have GOT to get my website done too; I'm taking a class on flex layout that will take me further into the fantastic-flex realm of CSS (so I can fix some stuff on this site too) and get it all going.
This table was fun to make; took several days and then I finally painted it light blue. Same color as the base color of my camper I painted last summer; I had a can left and I feel that color complements my oceanscape. The dark wood took away from it, although the base color of the "ocean floor" is the dark wood and I feel it is just right.
I sold some Orgonite Pyramids to a local holistic health store recently and hope that continues. Resinessence Arts has been born!